Hi there! We're so glad you're here.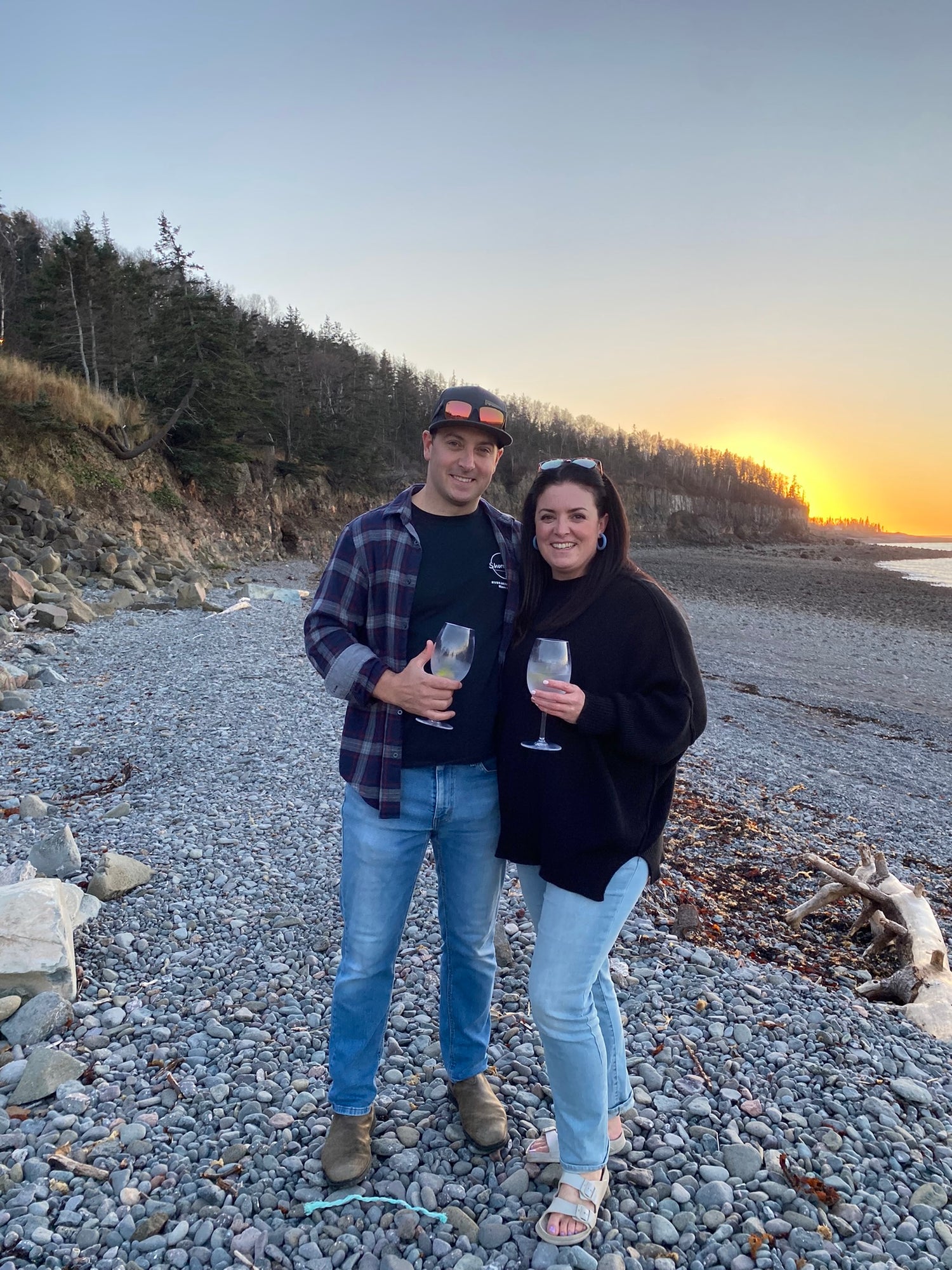 I'm Kate, the designer and creative & BJ is my hubby. He can literally bring any of my designs (or crazy ideas) to life! Together we make up Salt Sky Studio, and we handcraft colourful artwork inspired by the sea. We absolutely love what we do and we have a lot of fun along the way.
Below you can read more about us and our adventure into this colourful world. And because we love to chat, I hope that you will connect with us on Instagram to follow along with what we are up to. You should also join our email list so we can stay in touch and keep you in the loop for exciting updates, like giveaways, sales, and funny stories.
Thanks for visiting our page - we hope to connect with you!
Read more about us!
Our back story (*Hint: it involves squirrels!)

Like most parents out there, we spent a good chunk of 2020/2021 trying to figure out how to occupy our kids during the frequent Covid lock downs so that we could work our full time jobs. One day we saw a picture online of a squirrel eating at a tiny picnic table and we immediately knew we needed one in our yard. BJ made one for us and soon he was making more for friends and family. Eventually he was selling dozens on marketplace and we were floored by how popular these little tables could be. He began building other things too - bird houses, bat houses, planter boxes and all sorts of other things and we decided to start vending at the Hubbards Farmers Market under the name Seashore Woodworks.

We had some mild success in the lucrative market of squirrel furniture, but we also noticed that we were creating a lot of wood offcuts and wanted to put them to use. Through some trial, and a whole bunch of errors, we ended up creating the basis for our wood artwork. A well-built frame that houses wooden slats of varying heights, painted in bright colours that represent the range of ocean and skyscapes we experience on the shore of the Atlantic Ocean. After we made our first piece, we were hooked! We have retired the squirrel furniture and rebranded to become Salt Sky Studio.
More about us (Would you believe we have the same birthday?)

Yup, that header is true. We have the same birthday! Not just the same day, but the same year, and even the same hospital! It's a random fact that I always use as an icebreaker because what are the odds? Here are some more random facts about us:

- Kate won a 6-week all expenses paid trip to Africa in 2009. One of those "enter-to-win-a-mystery-trip" contests that seems too good to be true, but it absolutely was true and was the most incredible trip of a lifetime from South Africa to Kenya on a camping trip.

- BJ is in the Hockey Hall of Fame! Or at least his gloves and stick are because he scored the game winning goal for his team at the Royal Bank Cup in 2002, the Junior A national hockey championship. It's pretty cool to know that his stuff is still on rotating display!

- Kate is obsessed with earrings, stationary, patterns, books, lego, travel and anything and everything related to RuPauls Drag Race.

- BJ geeks out over lawn care, murder podcasts, building projects on pinterest, and is a new convert to pickleball.

- Kate's family owns the Shore Club in Hubbards, which is the setting for the TV series "Moonshine". The show is based on her extended family.
What drives us? (Our values, not what's parked in the driveway)

There are certain things you can expect when you work with us:

Quality - Our artwork is handcrafted with the utmost care. If we wouldn't hang it in our home, we wouldn't let it hang in yours. We believe that the details matter.
Relationships - We believe in creating a relationship with our customers. We aim to be professional with just the right mix of personable.
Community - We love where we live and want to share it with the world. Nova Scotia is a hidden gem and we love to show it off. We also love supporting local makers and businesses because we believe that is how we all succeed. There's no competition here, just lifting others up.
Humour - Life is short, so why not have fun while we're at it!